NYCMarathon Training : Week 15
Monday – Cross Training - REST – Nothing to report here other than one of the most exciting games in Dodger history in which this happened…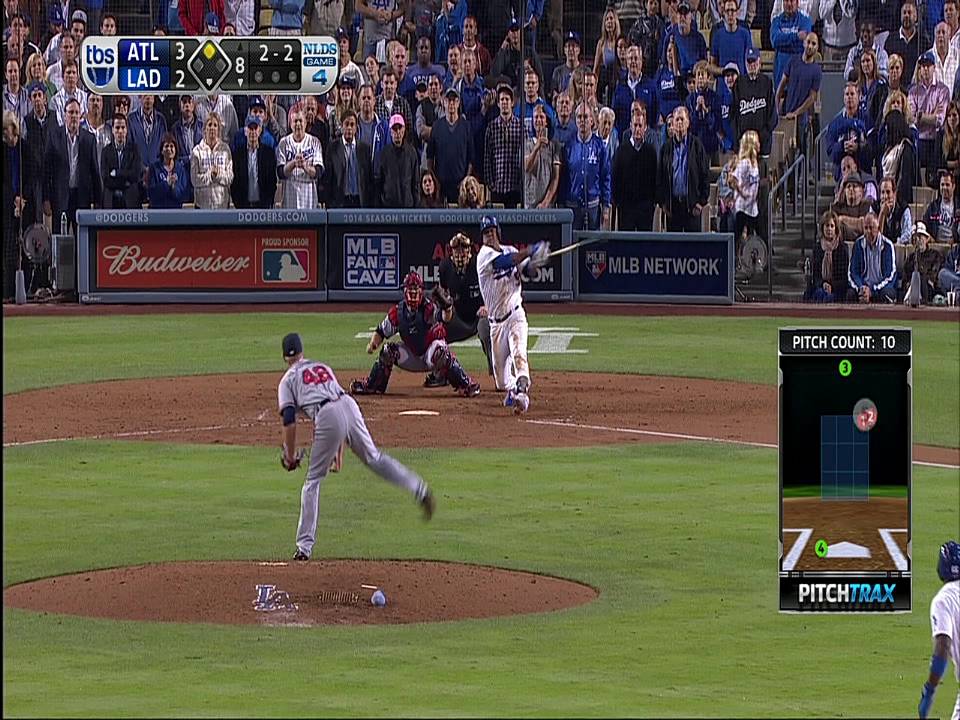 Tuesday – 5 Miles – After spending time in the mid 90's heat of the desert on Sunday, it was a shock to the system to walk out of my building to temperatures in the low 50's.  It wasn't easy dragging my ass out of bed on Tuesday and the cold weather wasn't making it easy for my body to warm up.  I have decided Tuesday morning runs BLOW.  5 Miles @9:05/mi pace.
Tuesday Night –  YOGA – I like to knock out runs on Tuesday morning so I can go to Yoga at night, it's a trade-off.  Well, upon arriving at the studio I was rewarded with a surprise new yoga instructor!  …yippeeeee!  I don't like change, especially when it's a surprise and when it involves me (and the rest of the class) looking even less graceful than normal trying to follow a completely new practice.  Good work out but there was nothing relaxing mentally about it.  Oh yoga sometimes when you win, you lose.
Wednesday – 8 Miles – Set the alarm for an ungodly 5:40am and woke up wanting to murder someone.  The temperature was in the low 50's again, my apartment was cold and my blankets were warm.  Cooler temperatures make rolling out of bed even more difficult.  I busted out the arm warmers for this one and they lasted about 2 miles, have to get used to wearing layers (hopefully) for New York.  Hal wanted me to get in 8 before work but he was going to have to settle for 7 before 7.  The legs felt a little livelier than my Tuesday run so I increased the exertion a little but not much and was happy to see almost race pace with minimal effort.  7 Miles @8:19/mi pace.  Last of the annoying distance Wednesday runs DONE!  I dropped mile 8 because I didn't want to run it and I was planning to tack on 2 more to my long run on Sunday.
Thursday – 5 Miles – Opted to sleep in and run after work with my buddy.  As we all know this means a much slower pace.  He called it quits at mile 4 which allowed me to get down to a normal pace for the last mile.  Good to get him out and running.  5.00 miles @9:44 pace.  After this run my legs just felt tired.  Not painful or worrisome, just tired.  The exhaustion had me concerned heading into the weekend.
Friday – REST – Long day at work, followed by a mentally exhausting Dodger loss in extra innings, McDonald's for dinner (frickin disgusting, haven't had lunch/dinner there in years), an exhaustingly awesome J Roddy Walston concert and a bedtime after midnight.
Saturday – 5 Miles – So, the late night festivities meant that I would be sleeping in…until 7:30am…adulthood.  I know it only gets worse when/if I have kids…I feel for you parents that read this and think…7:30!!!!, I wish.  Anyway, I headed to the Rose Bowl on the Vespa to get on the trail and I must say, this cooler weather is going to make riding a major pain.  So damn cold, I literally felt like I was in Dumb and Dumber HERE.  It was only in the low 60's but add wind at 45 mph and shorts, I may have well been in Fargo.  Good news is I made it to the Rose Bowl without getting hypothermia, bad news is they had all the parking spaces blocked off for the UCLA game that evening.  Thankfully Pliny (my Vespa) fits almost anywhere…

As for the run, I started slow since my legs had been feeling tired and pretty much kept the effort semi-easy. 5 Miles completed @8:05/mi pace.  No aches, no pains, no issues, just a nice Saturday morning run followed by the usual breakfast at my favorite spot.  The Dodgers proceeded to ruin my afternoon as they did the evening before by losing yet another close game…I tell ya…you know you're a fan when it becomes nerve-racking to watch a game.  I ended up salvaging the night by heading to the movies to watch Gravity in 3D.  It was kind of cheesy but definitely entertaining in a slow-moving sort of way, and it was visually stunning.  I had Thai food for dinner to try to carbo-load for my 20 miler. I was so tired that I opted to get to bed early rather than do my water drop that evening.
Sunday – 20 miles –  Set the alarm for 6:15, then when I woke up in the middle of the night I reset it for 7, I was that tired.  Alarm went off, I got ready and then did my water drops before finally getting out on my run around 8am.  I was in denial all week that I was going to run 22 miles…I literally didn't accept that it was  going to happen.  While doing my water drops, I had the radio tuned to a classic rock station and the host talked about how the drummer for Cream, Ginger Baker, once did a 20 minute drum solo at a concert. Once he finished the solo, Baker proceeded to pass out and had to be rushed to the hospital.  They then played a snippet of an interview with Baker and in typical Rock'n'Roll fashion when asked about the solo he said… "you know how the saying goes, if you're going to do something, then do it right" …although he said in a very british accent with a scraggle reserved for someone who lived a full, hard life.  Did I mention that he was also on drugs?  What is my excuse?  Well it stuck with me that morning.  Not that I want to be rushed to the hospital after the marathon, but if I am doing this thing then I'll be damned if I don't train to do it as well as I possibly can.  So before heading out the door I did this…
The goal was to keep it slow for 22 miles since I already executed the negative split on my previous 20 miler.  I needed to have my body upright and in motion as long as possible.  I needed to tap into those glycogen levels so my body could rebuild them in preparation for race day.  I started very casual and stayed there all the way through mile 15, most of the miles were right around 9:15 (+/- 10 seconds).  At mile 15 though, much like my previous 20 miler, my body started to ache a bit, not painful but not comfortable.  So like last time I decided to break the monotony of 2 hours of running by walking for a few seconds and lifting my knees above my waist, then some quick stretches to tell my legs…I get it, this is boring and repetitive.  It was exactly what I needed, they didn't ache again, in fact, they felt a little fresh. So along I went, debating how to extend my route. In order to get to 22 I opted to add a familiar extension that I run on Tuesday /Thursday.  I knew the mileage would be spot on if not a skosh over but I also knew that choosing this route would also add in an extra 1.5 miles of hills.  If its worth doing, its worth doing well…right?  Hills pay the bills and New York has a couple of bridges late in the run, let's just say I will be well prepared.  The best news is my legs felt better going up hill during miles 18-21.5, different muscles I guess.  I was prepared to face the wall and at one point I felt a little discouraged but I reminded myself that I felt great, my breathing was calm and there were no pains.  So instead of wallowing in the doubt, I stepped up the tempo.  I wasn't moving particularly fast over the last two miles but I did push myself a bit to see how my body would respond…the result, the last mile was my fastest.  The route was pretty much perfect and I cruised down my alley as my app announced, 22 miles completed.  22 Mile @9:11/mi pace.  Success.
After the run, I kicked back with my feet up, football on, compression tights on, and beer in hand.  Then headed for a celebratory dinner at the same place as last year…Roscoe's House of Chicken and Waffles…